Trailer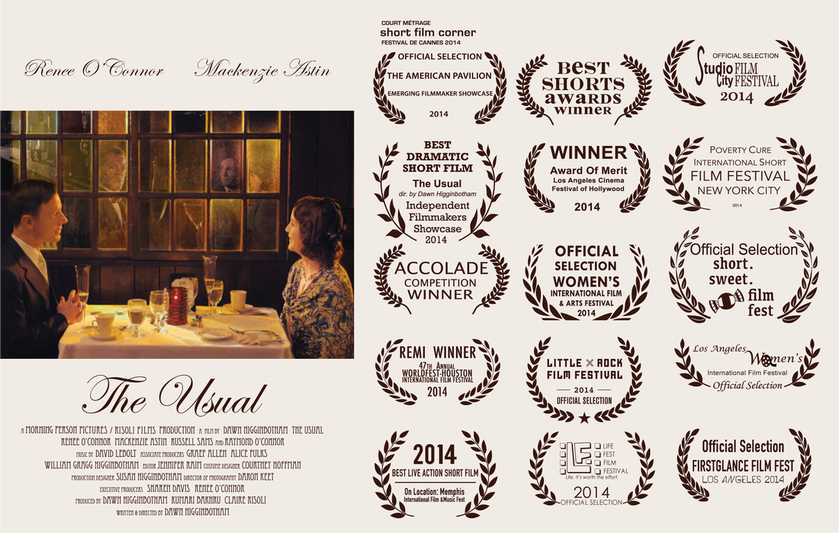 Set in the 1930's, THE USUAL is a commentary paralleling today's social economic issues with those of the Great Depression. Life was unpredictable, even the wealthiest, most prominent businessman had much to fear. During this uncertain time, a privileged couple learns, through a series of events, the meaning of pay-it-forward, when they unexpectedly find themselves the ones in need. This is essentially a film about kindness, hope and looking out for each other, even during tough times.
DIRECTOR STATEMENT
My favorite stories are those that deal with loss and rising above (wether that is loss of dreams, loss of love, loss of happiness, or loss of self). I have always wanted to tell stories that move people to laughter or tears, intrigue, provoke a conversation… Inspired by my friends, colleagues and heroes, I wrote the Usual, with the goal of telling a story about something positive and good. We needed a unique and interesting setting for this message so I chose the early 1930s, paralleling the Great Depression to our current uncertain climate. Deciding to shoot this as a period piece created many fun challenges for cast and crew. With the help and expertise of an incredibly technical, creative and talented team, it made the experience exciting and unforgettable. It was an amazing opportunity to work with period wardrobe, locations, dialect and the look and sound.
Color was key for me on this film. The warm, rich golden tones at the start show wealth and happiness and stature. Later in the film I wanted to use cooler, darker tones to create an impoverished feel, and to show the decline of characters and the uncertainty of their future. Daron Keet, our DP, was able to achieve most of this in camera using the Canon C300, the final color correction was added by Blacklist Digital, marrying A Camera and B Camera seamlessly and taking the beautiful landscape the DP had painted and really making the colors pop. Jennifer Raim, our editor, brilliantly put the puzzle pieces together, and while being true to the script and story I was trying to tell, lent her own interpretation. The sound design breathed fullness into the film, and the music soulfully helped mold the story. The cast brought the characters to life, giving them a voice, and the focus and care that was taken by each actor with their character was so exciting to watch. It was truly a unique and incredible experience.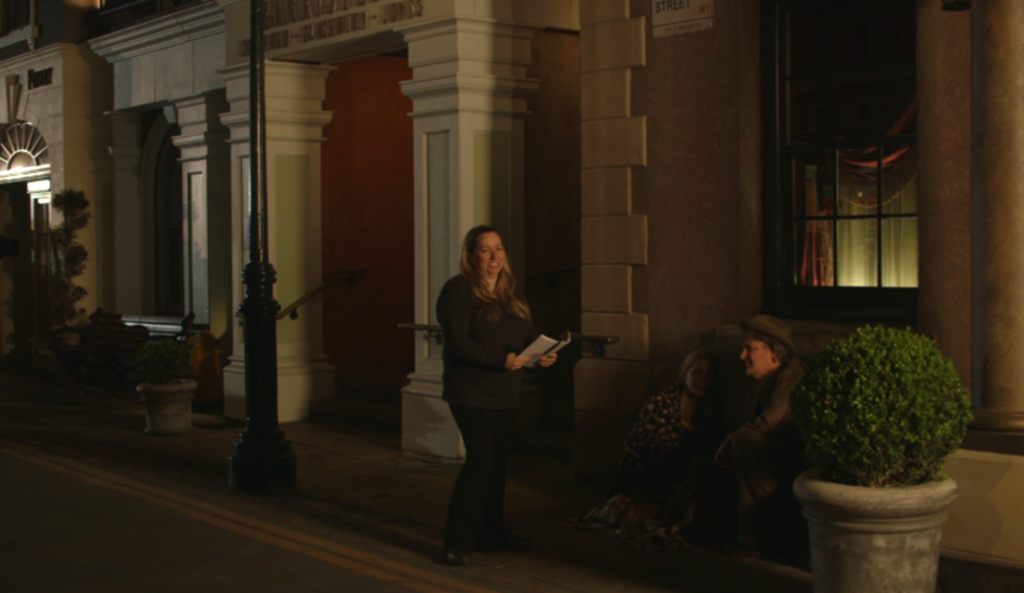 Cast & Crew
Cast
Mrs. Ford
Renee O'Connor
Mr. Ford
Mackenzie Astin
Jimmy the Waiter
Russell Sams
Maitre D'
Raymond O'Connor
Homeless Man
Robert C. Pullman
Homeless Woman
Dustin Quick
Crew
Director / Writer / Producer
Dawn Higginbotham
Production Companies
Morning Person Pictures / Risoli Films / DMH Ltd.
Executive Producers
Sharen Davis & Renee O'Connor
Producers
Kumari Bakhru & Claire Risoli
Director of Photography
Daron Keet
Costume Designer
Courtney Hoffman
Editor
Jennifer Raim
Composer
David Lebolt
Camera Equipment Provided by Canon
Lighting Equipment Provided by ANC Productions
Filmed at The Smokehouse and Universal Studios Hollywood
Format
Digital
Sound
2 CH Stereo
Run Time
9:30
Country of Production
U.S.
Date of completion
March 2016
For more details please see:
http://www.imdb.com/title/tt2758764/?ref_=fn_al_tt_1
https://www.facebook.com/theUsual2014/
https://twitter.com/TheUsual2014
http://www.imdb.com/name/nm0383307/?ref_=fn_al_nm_1
http://www.imdb.com/name/nm5561513/?ref_=fn_al_nm_1
https://www.linkedin.com/pub/kumari-bakhru/6/610/b76
Follow on Twitter @KumariBakhru